Your Body, God's Temple: Are You Respecting It?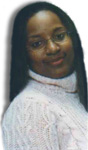 By Kimberly R. Thomas, MPH, CHES

The King James Version of 1 Corinthians 6:19-20 reads, "Know ye not that your body is the temple of the Holy Ghost which is in you, which ye have of God, and ye are not your own? Therefore glorify God in your body." A temple, a place reserved for a special or exalted purpose. Can you call your body a temple?
Generally, when we think of a temple, we imagine some place sacred, magnificent, and respected. Some place we choose to worship—usually a church. We as visitors, members or caretakers ensure that it is well taken care of and preserved. The outside is considerably groomed, leaves are raked, lawns are cut, bushes are sculpted and flowers are watered. The inside is just the same. The brass is polished, the furniture is dusted, the garbage or waste is disposed of and the floors are vacuumed.
Likewise, we who respect our bodies take time to ensure that it is cared for inside and out. Our hair is neatly combed or cut, perhaps one's fingernails are manicured weekly, our clothes are freshly pressed, and to add a little spice, possibly the young lady has decided to dash her lips with a tent of Fashion Fair Brown Sugar.
This same attention should be given to what we do to the insides of our bodies as well. Out of convenience, habit, perhaps a lack of knowledge, and/or cultural influences, daily we eat foods that are harmful to us or resist the need to engage our bodies in some health-enhancing physical activity.

Daily we disrespect our bodies—God's temple—possibly without even knowing it.

Neglecting physical activity, constantly eating fried foods, submitting ourselves to diets high in fat and cholesterol and low in important nutrients makes us vulnerable to many diseases attributed to lifestyle decisions.

Being a soldier of God demands our being ready for battle spiritually, mentally, emotionally and physically. How can we do battle, when literally we are out on sick-call due to heart attack, diabetes, weight-induced fatigue or some other ailment? God says that our bodies are temples, we are His beings, not our own. We should all remember to respect it as such.
Copyright © 2001-2008 The Thomas Family Inc. All rights reserved.
We welcome your questions and comments about this site