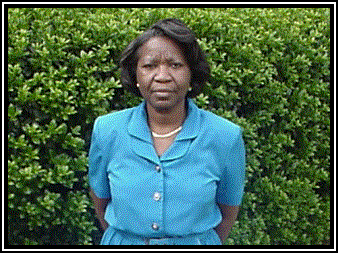 Evangelist Missionary Barbara Matchett
Evangelist Matchett is a member of the St. Paul Church of God in Christ in Cecil, Georgia, where Superintendent Arletha Sermons is Pastor. The church is a member of the Southern Georgia Jurisdiction of the Churches of God in Christ where Bishop C. J. Hicks is the Jurisdictional Prelate and Mother Amanda Johnson presides as the Supervisor of Women.
Evangelist Matchett is the second child of 11 born to the Late Roy D. Thomas, Sr., and the present Missionary Eva M. Thomas. She has three children, two boys and one girl, one daughter-in law, and four grandchildren.
Evangelist Matchett received her primary education in the Valdosta City School System, graduating from Pinevale High School. She furthered her education by attending and graduating from the Valdosta Area Vocational Technical School, earning a Licensed Practical Nursing (LPN) Degree and obtained an LPN Licensed where she practiced at South Georgia Medical Center (SGMC) in Valdosta, Georgia. Not being satisfied with just an LPN License, she later went back to school at Valdosta State University, Valdosta, Georgia, and the Abraham Baldwin Agricultural College, Tifton, Georgia, and received a Registered Nurse (RN) Degree. She is also certified/licensed in the state of Georgia and holds the title of a Certified Pediatric Nurse. Evangelist Matchett is presently employed at SGMC as a Certified Pediatric RN.
Evangelist Matchett says that her greatest blessing came when the Lord saved her in April 1972. He saved her soul and filled her with the Holy Ghost, and that with a mighty burning fire. He anointed her to teach His word in "no form or fashion."
Since the Lord saved her, Missionary Matchett has held many positions in the church, because she believed the word when it said, "Whatsoever thy hand findeth to do, do it with thy might…" In her local church, she has held the position of Church Secretary, President of the Mission Department, President of the Love Group, Stand-in Sunday School Teacher, and a member of the choir. On the district level, she serves as the Key Lady to the District Missionary, President of the Unity Treasure; President of the District Love Group, and member of the District Choir. On the state level, Missionary Matchett is President of Missionaries on the Southern end of the Southern Georgia Jurisdiction of the Churches of God in Christ. She has served as the Chairperson to the State Field Representative of the Sunday School Department, and as the Financial Expediter of the State Evangelistic Crusade of the Women Department.
Evangelist Matchett has always had a desire to do all that she could in whatever capacity she was serving. So in 1997, she decided to go back to school, this time it was for the Lord. She entered the Interdenominational Theological College Seminary by satellite and completed the two-year course of study.
The Lord has highly anointed Evangelist Matchett. She has counseled many in the areas of marriage, rearing children, how to cope on the job, how to be a good neighbor, etc. etc. She made a vow to the Lord to do whatever He asks her to do. She told the Lord, "Yes, Lord."